BetaFPV ELRS Lite Receiver 2.4G Tower Antenna
BETAFPV Lite receiver is based on the ExpressLRS project, an open-source RC link for RC applications. ExpressLRS aims to achieve the best possible link performance in both speeds, latency, and range.
BetaFPV ELRS Lite Receiver 2.4G Tower Antenna
BETAFPV Lite receiver is based on the ExpressLRS project, an open-source RC link for RC applications. ExpressLRS aims to achieve the best possible link performance in both speeds, latency, and range. This makes ExpressLRS one of the fastest RC links available while still offering long-range performance.

Specification
Weight: 0.47g (with Tower SMD ceramic antenna), 0.53g (with Flat SMD ceramic antenna)
Size: 10mm*10mm*6mm (Tower), 11mm*10mm*3mm (Flat)
MCU: ESP8285
Telemetry power: 17mW
Frequency bands (Nano receiver 2.4G version): 2.4GHz ISM
Input voltage: 5V
Antenna: Integrated SMD ceramic antenna
Note: The firmware version of the Lite receiver manufactured by our company is ELRS 1.1.0; ELRS Innovative team has officially released version 1.2.0, which is not compatible with the 1.1.0 version. We suggest our customers upgrade this receivers' ELRS version to 1.2.0 if needed. Significantly, the TX module and receiver have to be in the same ELRS version, otherwise, the frequency cannot match successfully.
Lite receiver with tower antenna 2.4G version diagram as shown below.
Configuration & Bind
ExpressLRS uses the Crossfire serial protocol (AKA CRSF protocol) to communicate between the receiver and the flight controller board. So make sure your flight controller board supports the CRSF serial protocol. Next, we use the flight controller with Betaflight firmware to show how to set up the CRSF protocol.
The connection between the ELRS Lite receiver and the FC board is shown below.

Enable the corresponding UART (e.g. UART3 below) as a Serial Rx on Betaflight Configurator "Ports" tab.

On the "Configuration" tab, select "Serial-based receiver" on the "Receiver" panel, and select "CRSF" as the protocol. Telemetry is optional here and will reduce your stick update rate due to those transmit slots being used for telemetry.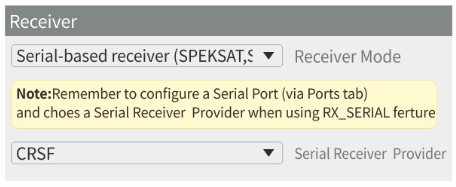 The Lite receiver comes with officially major release V1.1.0 protocol and no Binding Phrase included. Lite receiver could enter binding status by power on/off three times.
Plugin and unplug Lite receiver three times;
Make sure the LED is doing a quick double blink, which indicates the receiver is in bind mode;
Make sure the RF TX module or radio transmitter enter binding status, which sends out a binding pulse;
If the receiver has a solid light, it's bound.
Notes:
Binding once and the receiver will store the binding information. Re-power and the connect successfully auto.
If you reflash the firmware of the receiver with your own Binding Phrase, please make sure the TX module has the same Binding Phrase. The RF TX module and the receiver will bind automatically in this situation.
BETAFPV ELRS Nano receiver user manual download. (use the same manual of Nano Receiver).
Includes
1x ETAFPV ELRS Lite receiver (tower antenna or flat antenna)
2x Spare shrink tube
4x 30awg silicon connection wires (1 black, 1 red, 1 white, 1 yellow)
Price Match Request
If you find an Australian FPV store with a lower advertised price of the same "in-stock" item, let us know so we can match (or otherwise BEAT!) their price. This excludes any non-official, non-Australian stockist (such as overseas eBay sellers, Banggood, AliExpress).
MantisFPV is the best place to buy the BetaFPV ELRS Lite Receiver 2.4G Tower Antenna online.
Our stock levels
Are 99.8% accurate. What you see online regarding stock, is WHAT WE HAVE in hand, ready to be dispatched/shipped. Really.
We do try to stock everything, but that is simply a tall order. If you need something that we don't have, let us know here.
Pricing
We try to price competitively and fairly. MantisFPV is all about having the right FPV parts in stock, when you need it.
Are we the cheapest? We try. If we are not, fill in the "Price Match Request" form on this page.
Same day shipping
Orders received before 2pm on weekdays are processed and shipped that very day.
Local Pickup
Are you nearby Parramatta? Simply opt for local pickup when you place your online order. Sometimes, you just need something… RIGHT NOW.
Australian owned and operated
Made with ❤️ in Parramatta, Sydney. We are indeed a local Aussie small business. We are GST registered, so we pay our fair share of GST collected from our sales. Help support your local Aussie FPV store, forget those overseas stores like Banggood or AliExpress. Help keep our profits within our shores. Heck, who can really tolerate deliveries that takes 3 months?!
Shocker!… we have running costs
Maintaining, stocking, shipping and importing FPV parts costs money and carries inherent risks. We try our very best to be competitive in pricing but we also need to pay for wages, rent, taxes and pay for the bad stuff, like dead stock, shrinkages, fraud and importing challenges. However, we forget all this when we are able to help cure treat your FPV addiction 🙂
Loyalty Program
Get rewarded for simply purchasing from us. There are other ways you can earn even more points! Check out our loyalty program to learn more.